In amongst Estimate preparations, moving both bed and office ahead of the Parliamentary annex overhaul, and many, many events, I had some very special visitors! My beautiful daughter, and grandson, Hendrix, gave opportunity to do lots of things I have missed, from cake baking to tipping the tootsies into the ocean! Even though he could not go for a horse ride due to the weather, he happily was compensated by beating me at cards!! 🙂 Going back to the topic of 'moving', our koalas are in mating season until December, as well youngsters leaving home, so PLEASE take care and SLOW DOWN! This year our major Seeds of Change grant has contributed to the current campaign of awareness by the Biosphere Reserve Foundation in conjunction with TMR and many others. With wildlife strikes in our shire 49% of the Sunshine Coast to Gympie region, it really is time for everyone to understand the responsibility we all have in this. ????
L-R: 100th Centenary CWA; With Anna and Jo from Ramsay Health; @Noosa & District Landcare graduation
From the Chamber and Beyond
Again, as I did last year as part of achieving greater efficiencies for Estimates, I submitted to the various Committees two Questions on Notice (QON's), which were yes, again rejected! They have now been rerouted directly to the respective Ministers, and my ongoing efforts to see a review of both Estimates and Committee processes is that much closer with confirmation that where I have been directing my advocacy over the past 9 months, the Committee of the Legislative Assembly (CLA) is the appropriate body to authorize a review. With the cross bench often only having an allocation of 2.5 minutes in sessions for questions, you can imagine how impossible this is for the 3 parties and an Independent to get a question in each! As previously updated regarding the Budget, there were no surprises for our electorate although amongst the highlights was additional funding for the health sector, as well the Student Assistance Transport Scheme and for ongoing and new community projects amongst announcements.  These are all are posted to https://www.sandybolton.com/budget-2022-23-update/ . Even though at my Legal Affairs and Safety Committee's (LASC) Estimates we did not get to see an end to the misleading practice of those postal vote reply paid envelopes, there was reassurance regarding extra policing, and that the upgraded ICT systems had capacity to connect with the bridge monitors for early flooding alerts. To view this broadcast, head to https://bit.ly/3JDUP4o and once we receive responses to my 'rerouted' QONS they will be posted to 360! ????
In addition to its own Estimate's hearings, my LASC held public hearings for both the Building Units and Group Titles Bill 2022 and the Casino Control Amendment Bill 2022. You can view those and all archived broadcasts here: https://tv.parliament.qld.gov.au/committees. As always links to upcoming Bills and Legislation, can be found at https://www.parliament.qld.gov.au/Work-of-the-Assembly/Bills-and-Legislation
You can view all of my parliament speeches via my website https://www.sandybolton.com/parliament/speeches/
From the Inbox
Potholes and ongoing repairs after the floods and intermittent wet weather have highlighted, with a reminder that roads are maintained by either state government or local council, and both have reporting processes in place so please notify immediately of any hazards. For state roads, please contact TMR on 5451 7055 or northcoast@tmr.qld.gov.au. For Council managed roads, call 5329 6500 or download the Snap/Send/Solve App onto your smartphone to report.
The omission in the Budget of extra funding needed across QLD to address the housing crisis was extremely disappointing. However there is progress locally, with my Housing Action Group transitioning to the new Noosa Council Housing Reference Group; state supporting community housing projects via the Quickstart grants; the opening of community housing not-for-profit, Purpose Real Estate; and Council's draft Housing Strategy open for community feedback at https://yoursay.noosa.qld.gov.au/draft-noosa-housing-strategy-2022
It has also been really good to have Council supporting our 3 years advocacy for a review of state land and working with the Department of Housing regarding maximizing exiting government sites. In addition, two of our Seeds of Change grants have ignited upcoming fundraising by Womenkind for domestic violence transitional units here in partnership with Coast2Bay and the state government, as well piloting an expanded version of the Better Together share house program. More information upcoming on both!
The Polystyrene Roundtable hosted by Noosa Council to address the pontoon impacts from the floods, included representatives from local stakeholder groups, with Maritime Safety Queensland and the Department of Environment and Science also in attendance. It was informative, as well giving a clear pathway in how to make both policy and legislative changes to avoid a replication of what has been an environmental nightmare! We thank all who have assisted with the cleanup through this time and who will be working on prevention into the future. ????

L-R: Tewantin Noosa Red Cross; At the Citizenship Ceremony; Tewantin Traders Networking Night
On the Homefront
So many events, so little time! Our citizenship ceremony was extra special, as we welcomed a whopping 86 new Aussies! As MC Ian outlined, the whole alphabet was used in the countries represented which must be a first. As I said, our Noosa family has grown in all ways, and the pride all shared reminded me of how truly special Noosa is!
In celebration of Queensland Country Women's Association's 100th Anniversary, the Cooroy branch put on a fabulous morning tea, where they unveiled a stunning myrtle wood statue of founding President, Ruth Fairfax, carved by local artist Don Powell. Thank you for including me in this special day and for entrusting me to make the toast! ????
Noosa and District Landcare feels like family for everyone, and this was demonstrated again at their latest graduation ceremony, where ten Conversation and Land Management Certificate I students graduated, ???? with many having already secured positions post-graduation. The Landcare team also took home the 'gong' for Medium Employer of the Year at the 2022 QLD Training Awards, which is testament to their success in training and providing employment opportunities for students. 99design took out the award for Small Employer of the Year, for their apprenticeship program which uses their expertise to train and equip the next generation in cabinet making. Top job!! ????????????????
Thank you to the Tewantin Noosa Red Cross branch for including me in their AGM, where exceptional volunteers were presented with their Merit awards, including our very own Marilla and life-member Eva, who joined the organisation at just 7 years old and is now in her beautiful nineties. Such an incredible organisation and women ????
A longer and tougher course this year for Pomona King of the Mountain did not deter over 120 starters vying for the titles. Congratulations to all, including our Federal MP Llew O'Brien MP who came home strong just outside his target!
Bear and I thoroughly enjoyed the Pet's Life Expo raising funds for PTSD Dogs Australia, where he got his first taste of doggy ice-cream and met a girlfriend! A beautiful day with great music, demos, and speakers on canine health. ????
And yes, much more! Tewantin Noosa CWA AGM, Noosa Workforce Shortages Meeting, Purpose Real Estate opening, Battle of the Schools Recycling Challenge and catching up with grant and award recipients were just some. Sadly I missed a couple of events due to a 'bug', so my deepest apologies including to one of my 'besties' as I had to miss her birthday. We will be all very relieved when the flu season moves on as the COVID bug is enough to wrangle with! Whilst on COVID, a reminder regarding boosters if you need one, and the antivirals now available as previously posted.
We are currently in 'discussions' with the Department of Health regarding where the free RAT tests for card holders will be available from locally as the current locations provided are down the coast which is unacceptable. ????
L-R: Incoming Tewantin Noosa CWA Executive; PTSD Pet's Expo; King of the Mountain 'Corporate Box' ????
Grants and Reminders
Congratulations to the following clubs and organisations who were successful recipients of the latest Community Benefit Fund: Noosa Country Polo, Noosa Masters Swimming, Noosa Swimming Club, Pomona & District Horse & Pony Club, Pomona Meals on Wheels, Noosa Biosphere Reserve Foundation and Noosa District Pipe Band.  Also, to the 23 businesses in Noosa who were successful in the last round of the Business Basics Grant.  More upcoming grants:
For further State Government grant opportunities see the QLD Government Grant Finder or Grants Guru.
Parliamentary Speeches and Questions
Recent Questions on Notice (QON's) can be found at www.parliament.qld.gov.au/Work-of-the-Assembly/Questions-on-Notice-and-Answers. and latest speeches at https://www.sandybolton.com/parliament/speeches/
Have Your Say
For a complete list of Queensland State Government Consultations, including on Incident and Disaster Warnings in Queensland, head to https://www.getinvolved.qld.gov.au/gi/
Mobile Office
Due to the specialist doctor advice in efforts to heal my 'still' broken foot, I have had to reschedule my Mobile Office. New dates will be posted up to Facebook. Yes, the boot is off, however the bone still has not connected, as yet! ????
Office Reminders
Our office is open 9am – 4pm Monday to Friday, except during public holidays.  For community organisations we have the photocopier, marquees, and trailer available at no charge for your use.
L-R: Start of King of the Mountain; Containers for Change Challenge; Purpose Real Estate Opening
Connect
With so much to share, stay up to date via  Noosa 360, Facebook page updates or our monthly newsletters. Columns are in Noosa Today, Coolum Advertiser, Cooroy Rag, Your Local Lifestyle and Eastern Beaches News.
And Finally….
This month sadly we lost more of our local legends, including Eddie Vaughan and Olive Donaldson. Eddie, as one of our river 'champions', and unofficial ranger cleaning up the Noosa River one trip at a time over the last 3 decades, was always up for a chat, as well the swapping of hats! The beautiful Olive was one of our first female Councillors, and there was nothing she wasn't involved in, including giving me a stern talking to when needed. We will never forget her 'Ferrari' nor love for her community. Rest easy both of you as your legacies live on in all of us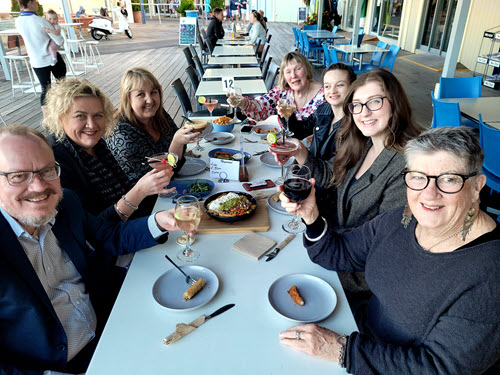 On a brighter note, there were many 'welcomes' including our latest intern Lucia and new staffer James, as well wished Katie all the best on her new adventures with a cocktail and nibbles complete with some chilly riverside breeze! Gratitude as always to my staff, who work so hard every day to serve our community and all within, including those with mental health struggles. Not an easy job, and one that often goes unrecognised in its importance. And what would we do without our much-loved volunteers!
There were also many wonderful acknowledgments, and it was fabulous to see Geoff Bone receive the BOC Rotary Youth Driver Awareness (RYDA) Champion Award for his 13 years work with RYDA, just as one example of our residents awarded as there were so many! We live in an incredible community with the most amazing people, who continue to inspire the rest of us. Thank you, thank you, thank you!!
In amongst this vibrant time, I 'bached' while Shoey was in Birmingham for 2 weeks commentating at the Commonwealth Games. Yes, I remembered to put out the bins, and even washed the pooches much to their disdain!!
Enjoy the last of winter everyone, and those yummy foods that have added some warming kilos to myself? ????
Sandy ????