The holiday season is upon us, and even though it has been a turbulent time, it has not stopped our community from rallying in multiple realms, showcasing its iconic, inclusive and passionate spirit. A big thank you to all that have gone above and beyond, from community organisations to businesses to essential workers, peaceful protesters. Everyone has shone and we are eternally grateful.
The reopening of borders was greeted with joy while the announcement of vaccine mandates has caused much trauma with my office receiving thousands of emails from residents in opposition to directives that segregate based on vaccination status. As many have shared, nobody knew that when international borders opened, we would have residents 'locked out' of cafes and libraries. I spoke on this in Parliament, and as of writing, efforts on our communities, businesses and patients' behalf have sadly not been successful, even though there are alternatives that could have been utilised. Out of 93 MPs in Parliament, there was only one other MP that spoke out regarding mandates that are tearing communities and families apart, and we can only hope that this is a short transition to our next vaccination targets.
Thankfully in amongst my anger and frustrations on your behalf, some magical moments including end of year celebrations and a special birthday where Biddy turned 100!! Gratitude to all, and that our community continues to be a shining light in the most unprecedented of times, is a Christmas gift we all can share.
Don't forget to have your say on priorities for 2022 via our annual survey which includes these segregations at  https://www.sandybolton.com/your-say-annual-survey/ As with the Annual Connect which would have arrived into your post box, everything feels dated within 24hrs as the situation changes with COVID, so can someone please send me a new crystal ball as mine ran out of batteries last year?

L-R: MP Mobile office @Noosaville; With Butch@Remembrance Day 2021; Noosa Citizenship Ceremony
From the Chamber and Beyond
The lighting of the Christmas Tree in Parliament marked the end of a year in Chamber none of us will soon forget. As we reminisced achievements which unfortunately, we never have time to celebrate courtesy of COVID-19 remaining at the forefront, our glass of bubbles was overshadowed by some grievances.
Summarising thousands of texts and emails from Noosa businesses, workers, and patients as a result of new vaccine mandates into a 3-minute speech was extremely difficult. It in no way could reflect the enormity of emotions and situations, regardless of vaccination status. However, your united message was clear in opposition to division in our community. You can view the speech here and to add your voice to advocacy please email the Premier and the Health Minister via thepremier@premiers.qld.gov.au and health@ministerial.qld.gov.au
In addition, my Questions on Notice (QONs) as well as Questions Without Notice (QWNs) covered issues such as whether alternatives of PCR testing and PPE would be made available for businesses and workers in response to new mandates. As well whether restrictions will be eased once the State reaches 90% fully vaccinated, which would at least give everyone the ability to plan ahead. You can find a list of my QONs and QWNs at https://www.sandybolton.com/parliament/questions/   And lastly, we look at the reality of our allied health professionals and patients, and how they have been impacted and vilified through media and government via inappropriate labelling, and a lack of preparedness for their essential services to be delivered via telehealth which they did during lockdowns . My speech on this is here, and I trust that there is a new understanding in the value of prevention and innovation, versus medication as a result.
Though the Justice Legislation (Covid-19 Emergency Response—Permanency) Amendment Bill contained the words 'COVID 19 Emergency Response', it was nothing contentious. Basically, it takes some of the temporary adaptions such as allowing legal documents to be signed electronically and makes them permanent. You can find my full speech at https://www.facebook.com/SandyBoltonNoosa/videos/422995882713989/
The QLD Veterans Council Bill was an opportunity to share the ways in which our community honours our veterans. This includes special places contained in the book 'Noosa Remembers: A History of World War I Memorials of Noosa Shire' written by Jane Harding and Joe Hextall. We rely on our veterans for so much, and in return, they should be able to rely on us.  The speech is available at https://www.facebook.com/SandyBoltonNoosa/videos/671301260941356
'Before and After' Chamber hours, we learn so much through a variety of events. From welcoming some of our youngest changemakers from our Montessori Noosa School to the People's House, all the way to the launch of Community Legal Centres Queensland 2021 Impact Report, the importance and relevance of renewable timbers, and the role of independent schools. Follow the Sandy Bolton MP Facebook page to stay up to date with all of the latest 'MP Moments and Learnings"!
In addition to my Legal Affairs and Safety Committee's current workload (we had 80 meetings this year!) there are multiple Parliamentary Committee inquiries open including for the  Police Service Administration And Other Legislation Amendment Bill 2021 and Inquiry into the provision of Health care, Aged care and NDIS care services and its impact on the QLD public Health System, all of which can be found at https://www.parliament.qld.gov.au/work-of-committees/inquiries
Again, it was an enormous honour to represent the Cross Bench in the end of year 'wrap' known as the Valedictory! It is never easy encompassing 3 political parties, and one 'Indi' in an expanse of geographic and cultural difference that is breathtaking. In under 10 minutes I endeavoured to do the impossible! Find the full speech here.
L-R :Karla the Koala at the Koala Gala!!; Honouring our fabulous police; MP mobile office @Tewantin 
From the Inbox
Again, I thank those that have been emailing, texting and calling for their patience as we continue to try and obtain answers from the Premier and Minister for Health following the announcements surrounding 17 Dec. Whilst we are waiting, a range of additional material has been developed for businesses at https://www.business.qld.gov.au/running-business/covid-19-restrictions/vaccination-restrictions. Included are factsheets as well as a free online TAFE course that provides training for hospitality and entertainment businesses to help them manage the entry of customers, including checking their vaccination status.
It was of enormous disappointment that the Planning and Environment Court handed down the decision that it was unable to stop quarry truck movements during school bus hours on the Pomona Kin Kin Road in response to Noosa Council legal action. For anyone who travels this road and experienced, you will understand why, and if you have not, go for a drive and ask how you would feel if this was your children or grandchildren. This is not the end of this journey for greater safety, with a 3-day trial set for early March 2022, regarding alleged breaches and argue the case about intensification of use issues at the quarry. There will be a full update posted to Noosa 360 following the upcoming Kin Kin Roundtable.
As reported previously, design of the Six Mile Bridge #7 is expected to be completed by early 2022, and then timeframes regarding construction will be advised. A project design layout is available for comment at https://www.tmr.qld.gov.au/projects/kin-kin-road-six-mile-creek-replace-timber-bridge (just scroll to the bottom of the page). The old timber bridge will remain open while the new bridge is being built, and when it is eventually removed, any reusable timber will be recycled and re-purposed to repair other bridges across our state-controlled network. And yes, I have queried whether 'additional shoulder width on both sides to provide an active transport benefit' means what we had requested to safely walk/bike/ride across?
Construction for Stage 1 of the Tewantin Bypass (Yayy!!) will commence within the coming weeks, with the duration for completion approximately seven months. The construction will pause over the Christmas and New Year period from 22 December 2021 to 5 January 2022. Workhours of the construction will be completed between Monday to Friday, 7am – 4pm. However, should construction need to occur outside of these hours, we will be advised. More information is at https://www.noosa.qld.gov.au/tewantin-bypass-1
The North Shore poor behaviours is an ongoing issue. Congestion, rubbish dumping, and the porta potty debate continues especially in the lead up to a very busy Christmas period however I have been assured that extra resources have been provided across the electorate including for on our river. Results from the recent survey conducted by Department Environment and Science on visitor capacity management have been chased up in order to be able to update the Teewah Cooloola Working Group before we break for Christmas, as well investigate what studies will form any recommendations.
Queensland Fire and Emergency Service have advised that bushfire warning templates we have advocated for have now been updated to avoid the confusion experienced during the 2019 bushfires. For more information, please visit https://www.qfes.qld.gov.au/prepare/bushfire/tune-in-to-warnings
After some intense days in advocacy, it was welcome news that the Noosa Hospital Agreement to provide general surgery to public patients has been revised and increased following a recent decrease, and I thank all who worked with us on this. There are still concerns though regarding the new 'smart' referral system, and we have conveyed our, and your concerns on this, and will be tracking whether it lives up to its name.
As always there is too much to share that we cannot fit in! Regular updates are posted to Noosa 360 at www.sandybolton.com, including regarding the decommissioned TAFE site, oversight of local government and the Noosa River Advisory Group. As always, email our office on noosa@parliament.qld.gov.au or phone 5319 3100 if you any require assistance and avoid the misinformation that seems to abound!!
L-R: Tall Trees Art Exhibition; The wonderful Phil Moran; Scouting @Parliament!!
On the Homefront
To come home from Parliament to wonderful community events is definitely 'balm for the soul'! One that raised awareness around PTSD as a 'hidden injury' was deeply appreciated. Organised by our Rotary clubs, there was different activities throughout the day including interviews and demonstration by PTSD Dogs Australia. This highlighted so much we need know to assist our loved ones.
Officially welcoming our new Maritime Safety Queensland Area Manager of the Sunshine Coast Gary Crozier, gave opportunity to provide an overview of various issues, historical wrangles and frustrations, and how impatient we are to move beyond 'words'! River speeds, moorings, pollution, congestion and that the work of our Noosa River Stakeholder Advisory Committee translates to action were just part of the conversation!
At the 11th hour, on the 11th day of the 11th month every year we stand in silence to honour those who lost their lives to protect ours. This year was no different, with our poppies on our left side close to our heart we remembered. Thank you to our veterans in attendance, the Tewantin Noosa RSL Sub Branch team with new President Gino Amarrador at the helm, to wreath layers, our schools, Reverend Chris and those beautiful doves. We will never forget your sacrifices, and what you have given us. Lest we forget.

L-R: @Cooroy Pomona Lions Club; Pomona Chamber of Commerce; Noosaville SS 25th Anniversary!!
Having attended the COVID Noosa Business Roundtable meetings now for nearly 2 years, received many emails from our businesses and spoken with the QLD Small Business Commissioner, we are very aware of the impacts that restrictions and mandates have on many of our small businesses. You have had to endure so much, and it was wonderful to finally have the oppotunity to gather in a less formal setting at Land and Sea Brewery and prepare for what could be another extremely challenging year.
Congratulations to the Cooroy Pomona Lions Club on securing funding from the Community Fund to build a fabulous book store! With the help from our EO office grant, new concrete to connect the 'shed' to the stairs will prevent any mishaps. Head down to their bookshop, open Fridays and Saturdays 8am to 12pm!
There was so much to ponder as Noosaville State School celebrated its 25th anniversary. Foundation principal John Clifford shared stories alongside other dignitaries, as did the time capsule buried 25 years ago and opened by principal Mike to reveal all that we had forgotten, including the fabulous cassettes and players we adored! A new time capsule has been made to be unearthed in 2046. Thank you and congratulations to all in attendance, especially our 'prep' little ones who rocked  the 'clap'
The opportunity to meet two gentle, intelligent PTSD support dogs Legend and Rosie was beautiful. These incredible healers work for the not-for-profit organisation PTSD Dogs Australia based here in Noosa to deliver comfort and safety for our residents who suffer from Post-Traumatic Stress Disorder. These furry buds are provided by volunteer trainers at no cost, hence why this group rely heavily on donations. They are about to move into their new home base, and with a Community Benefit grant of $35k can now purchase a new vehicle. Due to demand, volunteer trainers are needed urgently. Are you ready to welcome a new member to the family to make a difference? You can find more information at https://ptsddogs.org.au/
The Noosa Chances Dinner was again superb in all ways! An extra 16 sponsors came onboard providing 'whole of school life' scholarships and mentoring so these youngsters can realise their dreams, as well the $80,000 raised on the night for an additional 6 students. Congratulations and gratitude to Tara, Georgie and the Noosa Chances team, sponsors, auction bidders, recipients and families. Brilliant! ????
The Pomona and District Chamber of Commerce AGM was inspiring. To hear firsthand from the committee and businesses about the year just passed included the many events and initiatives that have been overwhelmingly successful. Congratulations to Phil Moran and team, plus all our fabulous operators, and we look forward to getting out into those beautiful hills to do some Christmas shopping and eating!!
The 2021 Police Awards celebrated selfless service and heroism. A total of 18 officers from our electorate were awarded including for their life saving efforts during the 2019 Peregian Bushfires, as well as National Medals, National Police Service Medals and a 35 Year clasp to the Queensland Police Service Medal. Thank you to Superintendent Craig Hawkins, and to Inspector John Van Egmond for being a fabulous MC and all other Queensland Police Service representatives and attendees. Our team from Noosa you rock in all ways!
I love saying 'Aussie, Aussie,Aussie 'Oi,Oi,Oi' at the end of a speech!! The Citizenship Ceremony at the 'J' was as always, fabulous!! With 52 residents from 19 countries coming together in front of loved ones to say their pledge is moving, and our hearts always burst with pride that you have chosen Noosa to call home. Thank you to Noosa Council team, and a huge welcome to all to our most incredible community ????
The Noosa Biosphere Reserve Foundation hosted a sold out 2021 Wild Koala Gala which was phenomenal. Recognising organisations, businesses, and individuals who demonstrate their relationship with our natural environment through minimising impacts, the Annual Gala also raised funds and awareness to protect and secure Noosa's wild koala population. We all learnt so much from the panel who shared the progress on the chlamydia vaccine, how Noosa is leading the way in habitat restoration, and what we now need to do to reduce the deaths from cars, dogs, and disease. Karla was there, rocking her lifesaver outfit!! ????
Phewww! There were so many more events, meetings and forums that even as I have been writing this, my head spins. As always, please follow-on Facebook, including the Friday night updates ????
L-R: A 'Christmassy' Parliament ????; The Eco Cottages team!!; Happy 100th Biddy
Grants and Reminders
CURRENT SMALL BUSINESS GRANTS
COMMUNITY BENEFIT FUND
ERGON-ENERGEX COMMUNITY FUND
TOURISM AND HOSPITALITY SECTOR HARDSHIP PROGRAM
TRUTH, HEALING AND RECONCILIATION GRANTS PROGRAM
For further State Government grant opportunities see the QLD Government Grant Finder or Grants Guru.
Parliamentary Speeches and Questions
Recent Questions on Notice (QON's) can be found here. The latest speeches can be found below:
Have Your Say
For a complete list of Queensland State Government Consultations, including on Incident and Disaster Warnings in Queensland, head to https://www.getinvolved.qld.gov.au/gi/
Mobile Office
The next mobile office will be scheduled in the new year ????
Office Reminders
Our office is open 9am – 4pm Monday to Friday, except during public holidays or lockdowns. We will close for Christmas on Thursday 24 December at 4pm and reopen on Monday 10th January at 9am. If you require emergency assistance during this time please call one of the numbers listed at https://www.sandybolton.com/emergency-contacts/, alternatively any messages or emails will be answered on our return.
Connect
With so much to share, stay up to date via  Noosa 360 , Facebook page updates or our monthly newsletters. Columns are in Noosa News , Noosa Today, Coolum Advertiser, Forest Star, Cooroora Connect, Your Local Lifestyle and Eastern Beaches News.

L-R: DFV Council meeting; With the Red Cross at the PTSD event! Beckman's Road Sod Turning!
And Finally….
As we head into this holiday season, there is so much to say. It has been another tough year, and it is so important to support our businesses as they abide by state government mandates. You can do this by not making their job harder. They and their staff do not make these decisions, so please express frustrations by writing to the Premier, and the Chief Health Officer. This Christmas stand shoulder to shoulder, spend time with loved ones, and ask that Santa make this transition period very short. Focus on kindness, empathy and unity, knowing that together we are stronger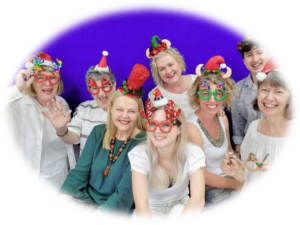 Having our high vaccination percentages does not change the reality that COVID will come and impact our community. So please do not forget to link your vaccination certificate to the QLD App, and that hand washing, distancing, and getting tested if you have symptoms as borders open. And for anyone left that is getting vaccinated, do so now. Even with our best provisions, we may face long lines and shortages. If you are travelling, border restrictions change frequently, so keep updated via www.covid19.qld.gov.au.
And in addition, we are coming into the fire/flood/storm season! Be prepared https://www.getready.qld.gov.au/ and keep handy your evacuation plan, medications, radio, and those batteries.
Please be mindful of the dangers that our roads, rivers, dams and ocean can present when you are busy on the celebratory trail. It's simple. Take those extra minutes of assessment, and if its flooded, FORGET IT!
With our office closed from Christmas Day until January 10, important contact numbers and links you may need, including to COVID testing centres, are here and here. Be assured our Noosa Disaster Management Group and front liners are well prepared for all situations, so all you need to do is assist them by taking care.
Until next year, super hugs from all of us in our festive fare, and gratitude to my beautiful volunteers. Much love to my staff Lisa, Caroline and AMF, as well tears as we farewelled Zac. Welcome to Aveen, our fabulous school-based trainee Jordy, and intern Maddy!  And this Christmas, do your Santa shopping with our local businesses who need you right now. I have, and hopefully if borders stay open, we will get to see our children and grandies, including newest bubby Sadie, and deliver in person gorgeous gifts made right here in Noosa. ???? Along with much needed hugs and snuggles. I have my fingers, toes and everything else crossed!
Am so looking forward to seeing you on the Christmas party trail and on the streets. Happy holidays everyone and thank you for your incredible support and efforts again this year. You are deeply appreciated in more ways than can ever be relayed, by what you do, and how you do it ???? Bring on 2022, we are ready!
Sandy ????