With much misinformation, as well lack of knowledge on social media regarding policing in our electorate, please find information below.
Noosa, as well the neighboring Nicklin and Ninderry Electorates, are part of what is termed 'borderless policing' in the North Coast Region, which ensures that at any time whoever is closest responds, even if they are not from our local policing operation so you may see officers from other stations including Coolum, Maroochydore, Nambour or Kawana in attendance.
NOOSA ELECTORATE POLICE STATIONS
Noosa Police Station
9 Langura St, Noosa Heads. Front counter is open Mon – Fri, 8am to 4pm, with officers on duty 24/7
Pomona Police Station
22 Red St, Pomona. Front counter is open Mon & Wed 8am – 9am, with officers available 24/7
Cooroy Police Station (Nicklin & Noosa Electorates)
2 Myall St, Cooroy. Front counter is open Mon – Thu 8.45am to 2pm, with officers available 24/7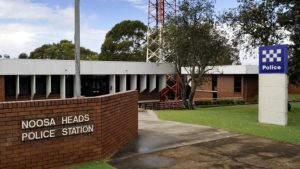 EMERGENCIES
Please dial 000 immediately
NON-URGENT REPORTING – POLICELINK
Policelink on 131444 is for non-urgent reporting and enquiries, saving the need for you to make reports at a local station. You can also report online at www.police.qld.gov.au/policelink-reporting. These reports are then sent to the local officers on duty 24/7.
MOBILE POLICE BEATS/UNITS
Where once we had a fixed Police Beat in Hastings Street and another in Poinciana Avenue (Tewantin), we are now operating under a new police beat model which is mobile and uses a van to be sited throughout the electorate and attend where the greatest need is at any given time. This allows police to utilise resources more efficiently for an increased responsiveness to the community.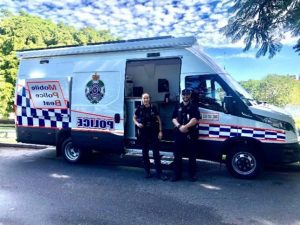 HIGHWAY PATROLS/COMPLIANCES/SPECIAL OPERATIONS
In addition to officers assigned to our local stations, various compliance measures are undertaken involving special officers from other branches. Some, such as 'Operation Sandstorm' (Noosa North Shore/Teewah to Double Island Point), can operate over weeks or years, while others such as random breath tests, speed enforcement and heavy vehicle compliance (in partnership with Department of Transport & Main Roads) are shorter in nature.
CRIME RATES
Regardless of an escalation of social media comments relating to crime and alcohol fueled violence in Noosa, the data shows that this has been decreasing over recent years.  We are currently awaiting a full update of figures from the last 5 years, however for those interested in searching police data, you can do so at www.police.qld.gov.au/maps-and-statistics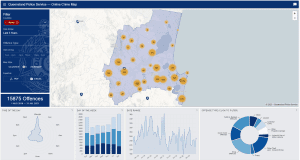 NEIGHBOURHOOD WATCH
With very few operating in the Noosa area currently, anyone with concerns may wish to consider starting a Neighborhood Watch to increase knowledge and security around their homes and with neighbours and other residents. These can also provide excellent feedback for local police.  To enquire further, please contact the Sunshine Coast District Crime Prevention Unit via sunshinecoast@police.qld.gov.au
FURTHER INFORMATION & ADVOCACY
We continue to advocate for increased police resourcing throughout Queensland during the State Budget & Estimates processes, and at any time should there be evidence of a change in crime trends in our community or that a lack of resourcing for Noosa specifically is contributing to this, we immediately advocate for the extra needed as we have done on a number of occasions which lead to specific operations such as 'Operation Sandstorm'.
Whilst Noosa can have a full complement of officers with 24/7 patrols that can and does target particular areas such as Hastings Street on weekends, a mobile police van, highway patrols that operate random breath tests and speed enforcement operations, the reality is that they cannot be everywhere at once, hence why it is important to report any suspicious or bad behaviour immediately in efforts of prevention.
During the Estimates Hearing on 9th August 2023, Sandy asked the Commissioner for Police specifically how adequate police numbers are determined for a region, particularly given increases in domestic and family violence. Commissioner Carroll answered "There are a number of criteria used in that: demographic factors is one, clearly, crime trends, local policing initiatives, historical demand for service, and particularly now and in recent years, the actual demand of an area. I would say that a few years ago we were quite immature in measuring demand, particularly hidden demand. Part of recommendation No. 1 for the commission of inquiry is actually looking at demand. We have more sophisticated systems to look at that. There are a variety of factors, but for me the most accurate is to look at that hidden demand that in the past we actually did not see. I have touched on some of those things, as I have said: demographic, crime, local initiatives and that demand modelling.
For anyone experiencing any difficulties with local policing, complaints can be made via https://forms.police.qld.gov.au/launch/feedback or you are welcome to contact our staff on 5319 3100 or noosa@parliament.qld.gov.au
To add to our advocacy regarding any policing matters in QLD, please email the Hon Mark Ryan via police@ministerial.qld.gov.au and cc' our office in at noosa@parliament.qld.gov.au as well forward to our office any response you receive.